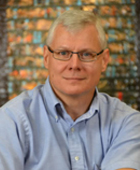 Thomas Kocarek, Ph.D.
Professor of Environmental Health Sciences and of Pharmacology
Office Address
Wayne State University/IBio; CURES
6135 Woodward
Detroit, Michigan 48202
Office Phone
(313) 577-6580
Office Fax
(313) 972-8025
Biography
Research Interests
Regulation of drug- and lipid-metabolizing enzyme expression; Hepatocyte biology
The enzymes of the cytochrome P450 superfamily of hemoprotein monooxygenases are responsible for the oxidative metabolism of a diverse assortment of substrates, both endogenous and xenobiotic. P450s are most abundant in the liver, particularly the hepatocyte, where the amount of each P450 is controlled by a complex combination of intracellular and extracellular signals. A remarkable property of many P450s is inducibility, whereby the presence of a chemical inducer evokes an increase in the amount of one or more P450s, which often results in metabolism of the inducer. P450 induction has important implications for drug-drug interactions or toxicity in humans if the rate-limiting step in a drug's elimination or bioactivation is catalyzed by an inducible P450.
Emerging evidence suggests that certain of the xenobiotic-inducible P450s are regulated by the same processes that control metabolism of a cell's own endogenous lipophilic chemicals. Metabolites of the cholesterol biosynthetic pathway are now recognized to function not only as chemical intermediates, but also as intracrine regulators of hepatocyte physiology, which act by modifying the activities of nuclear receptors. The focus of Dr. Kocarek's research is to understand the linkage between hepatocellular sterol metabolism and P450 expression. This research will lead to greater understanding of the mechanisms whereby the hepatocyte recognizes, responds to, and metabolizes foreign chemicals.
Education
B.S., Ohio State University, Columbus, OH, 1982
Ph.D., Ohio State University, Columbus, OH, 1988
Publications
Rondini EA, Pant A, and Kocarek TA. Transcriptional Regulation of Cytosolic Sulfotransferase 1C2 by Intermediates of the Cholesterol Biosynthetic Pathway in Primary Cultured Rat Hepatocytes. J Pharmacol Exp Ther 355:429-41, 2015. PMID: 26427720
Pant A and Kocarek TA. Role of Phosphatidic Acid Phosphatase Domain Containing 2 in Squalestatin 1-Mediated Activation of the Constitutive Androstane Receptor in Primary Cultured Rat Hepatocytes. Drug Metab Dispos 44:352-5, 2016. PMID: 26700959
Rondini EA, Duniec-Dmuchowski Z, and Kocarek TA. Nonsterol Isoprenoids Activate Human Constitutive Androstane Receptor in an Isoform-Selective Manner in Primary Cultured Mouse Hepatocytes. Drug Metab Dispos 44:595-604, 2016. PMID: 26798158
Rondini EA, Duniec-Dmuchowski Z, Cukovic D, Dombkowski AA, and Kocarek TA. Differential Regulation of Gene Expression by Cholesterol Biosynthesis Inhibitors That Reduce (Pravastatin) or Enhance (Squalestatin 1) Nonsterol Isoprenoid Levels in Primary Cultured Mouse and Rat Hepatocytes. J Pharmacol Exp Ther 358:216-29, 2016. PMID: 27225895
Dubaisi S, Fang H, Kocarek TA, and Runge-Morris M. Transcriptional Regulation of Human Cytosolic Sulfotransferase 1C3 by Peroxisome Proliferator-Activated Receptor γ in LS180 Human Colorectal Adenocarcinoma Cells. Mol Pharmacol 90:562-569, 2016. PMID: 27565680
Search PubMed for publications from the Kocarek Lab
Faculty Status
Toxicology