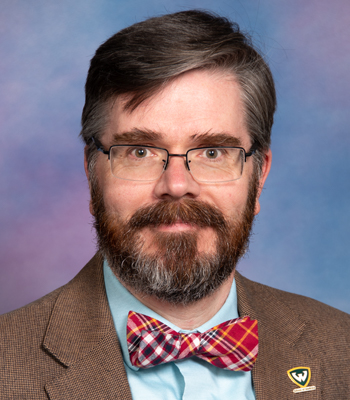 Raymond Mattingly
Professor Emeritus, Former Chair of Pharmacology
Office Address
540 E. Canfield, 6374 Scott Hall
Office Phone
(313) 577-1580
Office Fax
(313) 577-6739
Biography
Cellular and Molecular Pharmacology:Signal Transduction through Small GTPases of the Ras Superfamily
Our studies focus on the physiological roles and pharmacological significance of small GTPases of the Ras superfamily. In particular, we are interested in how to target disorders where the Ras pathway is activated without direct oncogenic mutation of the Ras protein itself. While such activating changes in Ras are the most common oncogenic mutations in human cancer, the majority of cancers and many other hyperproliferative disorders have increased Ras signal transduction that is driven through other mechanisms. In recent years, our efforts have concentrated in the areas of Type 1 Neurofibromatosis (NF1) and breast cancer.
NF1 is the most frequent genetic cause of both tumors and neurological problems, with a birth incidence of about 1 in 3,000. Nearly all patients have benign neurofibromas, and there is increased risk of malignant peripheral nerve sheath tumors and other cancers. There is no effective current pharmacological treatment for these tumors. We have developed collaborative projects with the goal of the identification of non-toxic and mechanistically specific drugs for NF1 treatment. Our hypothesis is that increased activation of Ras signaling underlies the pathological development of NF1 and provides therapeutic targets.
Our work in breast cancer research is focused on the identification of new therapeutic approaches through the development and use of novel 3D in vitro models. We believe that this approach will provide more relevant results than are obtained from testing new drugs in conventional cell culture in 2D on plastic dishes, while being significantly more rapid and high-throughput than testing in animals. We are addressing two main problems: discovery of the factors that cause the progress from ductal carcinoma in situ (DCIS) to find how to block malignant progression; and identification of a viable targeted approach to triple-negative disease/basal-type breast cancer. We expect that the models and approaches that we are developing will address both of those challenges, and also be useful to other investigators who are tackling other important issues in breast cancer.
Education
B.A. (Hons.), Natural Sciences/Pharmacology, University of Cambridge, Cambridge, U.K., 1987
Ph.D., Pharmacology, University of Virginia, Charlottesville, VA, 1993
Publications
K.J. Massey, Q. Li, N.F. Rossi, S.M. Keezer, R.R. Mattingly & D.R. Yingst. Phosphorylation of Rat Kidney Na, K-pump at Ser-938 Required for Rapid Angiotensin II-dependent Stimulation of Activity and Trafficking in Proximal Tubule Cells. Am. J. Physiol. 310: C227-C232 (2016). PMID:26582472; PMCID: PMC4888522
Brock EJ, Ji K, Reiners JJ Jr. & Mattingly RR. How to Target Activated Ras Proteins: Direct Inhibition vs. Induced Mislocalization. Mini-Rev. Med. Chem. 2016 16(5):358-69 PMID: 26423696; PMCID: PMC4955559
Sameni M, Cavallo-Medved D, Franco OE, Chalasani A, Ji K, Anbalagan A, Chen X, Mattingly RR, Hayward SW, Sloane BF. Pathomimetic avatars reveal divergent roles of microenvironment in invasive transition of ductal carcinoma in situ. Breast Cancer Res. 2017 May 15;19(1):56. PMID: 28506312; PMCID: PMC5433063.
Kraniak J, Mattingly RR, Sloane BF. Chapter 14, Roles of pericellular proteases in tumor angiogenesis: therapeutic implications. In Extracellular Targeting of Cell Signaling in Cancer. Janetka JW, Benson RM, editors. John Wiley & Sons, Inc. (Hoboken, NJ); 2018.
Kraniak JM, Chalasani A, Wallace MR, Mattingly RR. Development of 3D culture models of plexiform neurofibroma and initial application for phenotypic characterization and drug screening. Exp Neurol. 2018 Jan;299(Pt B):289-298. PMID: 29055717.
Shah S, Brock EJ, Ji K, Mattingly RR. Ras and Rap1: A tale of two GTPases. Semin Cancer Biol. 2019 Feb;54:29-39. PMID: 29621614
Shah S, Brock EJ, Jackson RM, Ji K, Boerner JL, Sloane BF, Mattingly RR. Downregulation of Rap1Gap: A Switch from DCIS to Invasive Breast Carcinoma via ERK/MAPK Activation. Neoplasia 2018. Sep;20(9):951-963. PMID: 30144784; PMCID: PMC6106701.
Brock EJ, Ji K, Shah S, Mattingly RR, Sloane BF. In Vitro Models for Studying Invasive Transitions of Ductal Carcinoma In Situ. J Mammary Gland Biol Neoplasia. 2019 Mar;24(1):1-15.  PMID: 30056557.
Search PubMed for publications from the Mattingly Lab